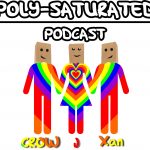 Episode 77 – Deck The Halls (not family) with Holiday Boundaries
This week we cover why it's important to set boundaries for the holidays. Whatever you celebrate and however you celebrate do it how you feel you should. Everyone needs their time and space to avoid any jail time. Don't have the energy? Don't do it.
We hope everyone has the best holidays you can.
The other stuff
Find all Episodes on www.poly-saturated.com
Donate via Paypal to xan@poly-saturated.com
Become a Patreon Member
www.patreon.com/polysaturated
Twitter
@poly_saturated
Facebook
https://www.facebook.com/polysaturated
Instagram
https://www.instagram.com/poly_saturatedpodcast/
Donate to the podcast on Paypal
xan@poly-saturated.com
Merchandise
www.RestrictedWearz.com
Crow's Flight
www.CrowsFlight.us
Krazy Kasbh
www.krazykasbh.com
Full Swap Radio
www.fullswapradio.com